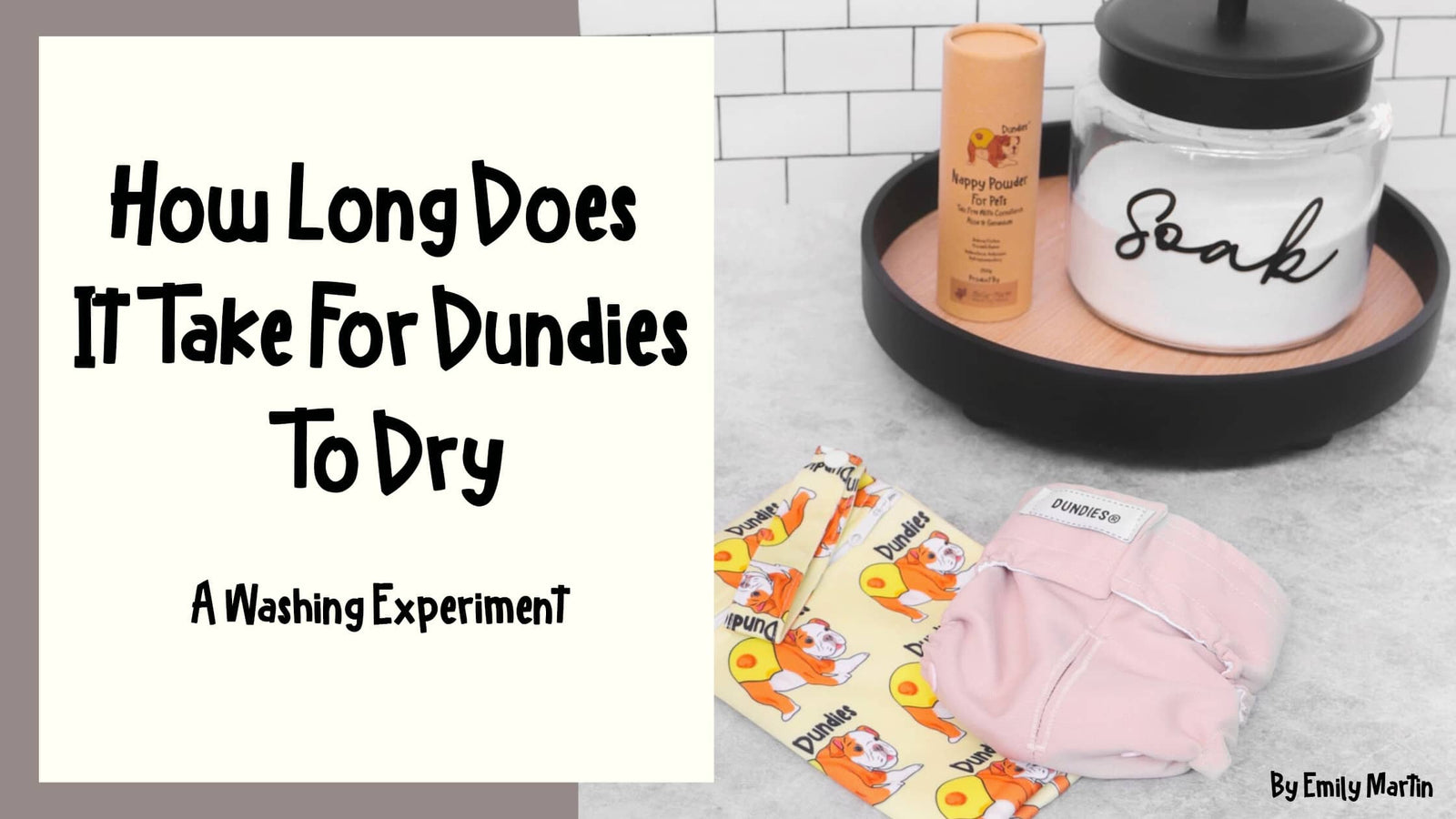 We are so use to a routine here in the Dundies office. Wash the Dundies from the day before in the morning, hang them out to dry and bring them inside in the afternoon. I have had a few people ask me how long it takes for Dundies to dry, and down to the hour I was not actually sure. Over the past 5 days I have been timing the drying of our Dundies on the line in Queensland's winter weather to generate an average drying time. There were overcast days, days of full sun and one day of full heavy rain that allowed me to carefully calculate the time Dundies dog diapers take to dry in the dryer. Yes, our nappies are dryer safe!
EXPERIMENT TIME
For this experiment we aimed to calculate the average drying time for all Dundies pet nappies, puppy pads, inserts and belly bands. Size medium nappies, belly bands and inserts were used for the trial and our standard sized 76 x 76cm puppy pad. 5am is the time we start to get things moving in the morning, the three dogs in the office need walking and I need to get everything open and operating. For this experiment the Dundies nappies were washed at 6am and then hung onto the line at 8am to maximise the morning sunshine. Let's get some rough comparisons on drying time for clothes hung outdoors.
Jeans can take 6-24 hours to dry
Hoodies can take 6-10 hours to dry
T-shirts can take 2-6 hours to dry
Socks can take 2-4 hours to dry
How did they perform? Dundies nappies are developed to be four times more absorbent than leading pet diaper brands so they do hold a little extra water after being washed because of their supreme absorbency.
Puppy Pads
Our puppy pads are designed to dry fast.
On the line, Dundies puppy pads take an average of 1.5 hours to dry on the line. We do not recommend putting our puppy pads in the dryer, although they are safe to dry on low heat
Hanging over a chair inside during rainy days, Dundies washable puppy pads take an average of 4.5 hours to dry
SHOP PUPPY PADS
Snappies and Belly Band shells
The shells of our nappies (the body of the nappy without the insert), are designed to dry super-fast. If there is too much mess to just snap and wipe between changes, we wanted you to be able to get back to full protection quickly.
On the line, Dundies Snappies and Belly band shells take an average of 45 minutes to dry, although in Summer heat, our shells can take as little as 15 minutes to be fully dried
We don't recommend using the dryer every time you wash your Dundies Snappies and belly bands as over years, just like drying anything frequently, decreases the lifespan of your clothing. Our shells take 30 minutes on a low heat dryer setting to dry
Hanging over a chair inside during rainy days, Dundies belly bands and Snappies take an average of 1 hour to dry
All in One Nappies
This nappy is our most absorbent product we sell. It's packed with super thirsty bamboo to draw away all the accidents incontinent pets may have so they can have a full comfortable dry night.
On the line, Dundies All in one Nappies take an average of 4.5 hours to dry
In the dryer, Dundies all in ones take 1.5 hours to dry on a lower heat setting. As we mentioned with the Snappies above, although dryer safe, we don't recommend using a dryer with every wash
Traditional Inserts
These are the inserts that come standard with all Dundies Snappies and are ideal for heat.
On the line, Dundies traditional inserts take an average of 2 hours to dry
In the dryer, Dundies traditional inserts take an average of 40 minutes to dry
Super Absorbent Inserts and
Belly Band Inserts
Our super absorbent and belly band inserts are made with the many super thirsty layers of bamboo that our all in one nappy is made from, making them ideal for holding lots of puppy piddle.
On the line, Dundies super absorbent inserts and belly band inserts take an average of 4 hours to dry
In the dryer, Dundies super absorbent inserts and belly band inserts take an average of 1.5 hours to dry